Mobile and solid at the same time?
That´s no problem for the corporate group of Spenner!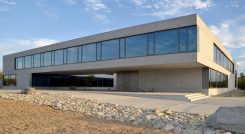 To complete a project within the building material industry, it is essential to have a powerful and reliable project team. Fortunately Spenner, Spenner Zementwerk Berlin , Spenner Herkulesand Spenner Syston have 500 perfectly mached team members to assist you with your projects.
At Spenner, you will receive individualized customer service by qualified long-term employees. This personalised support guarantees a solution specific to your requirements and reliability you can trust.
Short decision-making is just as important as flexibility. At Spenner, we have an indepth undestanding of our products to ensure you find the right product to meet your needs. A flat hierarchy, fast decisionmaking, technical understanding and vast experience enable us to provide you a high standard of customer service and product quality, in combination with a reliable supply.
It is not only a slogan, we at Spenner keep our promise.
Spenner is producing cements, quicklimes and dry mortars of the highest quality – but first and foremost we are your partner.
Quality since three generations
The corporate group of Spenner is what many corporate groups try to achieve – a family. The family-run business of over 95 years is now in the third generation and in the hands of the executive partner Dr. Dirk Spenner since 1994.
Even through steady growth, Spenner keeps the characteristics of a medium-sized company and the benefits of a direct partnership with the customers.
Typical Spenner
Broad portfolio, flat hierarchy
We benefit from what nature provides in our local area. The composition of our limestone clay is perfectly matched to the production of cement rarely seen in other areas.
The wide range of our cements is usable for any purpose.
Although it sounds contradictory: at Spenner, we have individuality in spades. Our employees are prepared to meet all challenges and build on their vast experience to help our customers anytime.
At Spenner, we value and place great focus on our direct contact with our customers. Our flat hierarchy allows for decisions to be tailor made to your needs, not the other way round.
Whether it's during the advising phase or on the way to your building site, with Spenner there is no long wait time.